Fine Art Nature Photography Prints
Thank you for visiting my website. I have selected my favorite nature pictures to display on this website. I am proud to offer beautiful photographic prints of the highest quality in two printing styles:

Both printing styles are explained in detail below. If there are questions or clarifications required I am happy to assist with these.
I have seen my landscape pictures printed using both of the suggestions I offer and can therefore, confidently, assure you that these prints look very beautiful. The high quality of my prints are guaranteed. That is why I have decided for these two printing options to be my primary choice for displaying my nature photography art. I am working with the best photographic labs in the USA to ensure the high quality of fine art prints.
All prints are securely packaged and should be expected to arrive within 3 to 5 weeks or sooner. I offer free shipping within the United States.
You can order your favorite prints directly from each photos page in the galleries section of The Outdoors.
Lumachrome HD TruLife Acrylic Prints
I have read about this fairly new printing method and tried it out by myself a while ago. And I was truly impressed by the vibrant colors, breathtaking details and sharpness reflected in the prints. This printing solution is pricier but by far my favorite. It is the best possible way to display high end art, giving the viewer the feeling as almost being at the scene when looking at the picture.
The process starts by producing a photographic print that is then face mounted from behind to a sheet of crystal clear, scratch resistant and non reflective acrylic glass. Images printed in this way have an almost 3D quality that show an unbelievable resolution, dynamic range and incredible vibrant colors which makes these prints the best luxury fine art prints available. The Lumachrome HD Acrylic Print is finished using a "float Mount" system, creating a ready to hang work of art that does not require exterior framing.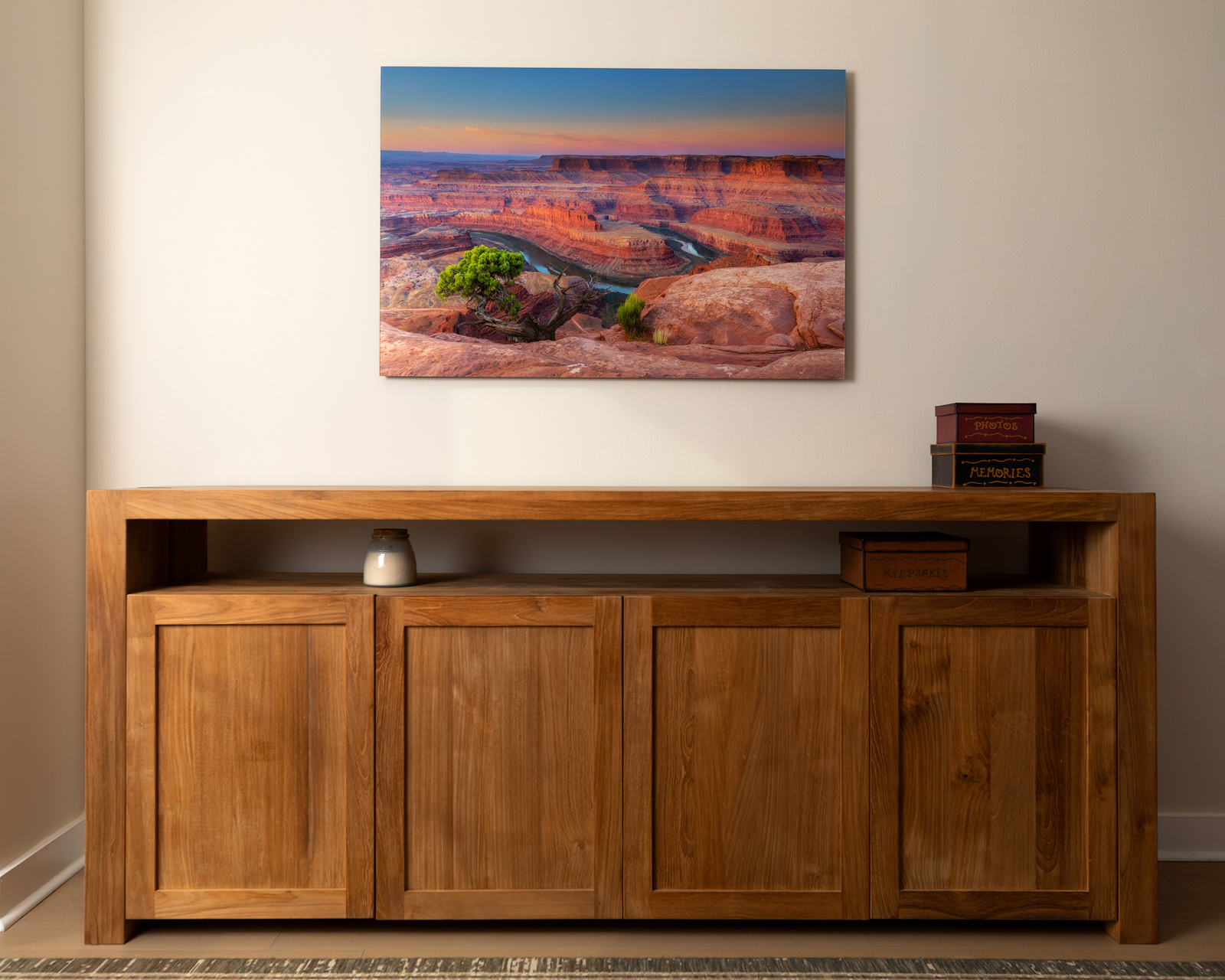 Fuji Flex High Gloss (paper only)
My favorite paper to print on is Fuji Flex high gloss paper, using a modern Océ LightJet printing process. It is a silver halide, true photographic printing material on a polyester base creating depth and dimensionality, which reflects more light and makes the colors deeper and richer than any other papers. This is the golden standard for creating stunning fine art landscapes prints.
Sizing
All prints can be printed up to 48×72. In case you would like to print a different size than indicated in the printing menu please contact me. I am happy to assist you with all your questions.
Shipping
All prints are printed to order, inspected and signed by me prior to shipping in order to assure quality, with free shipping in the United States. All prints are packed securely and followed by a certificate of authenticity. Please allow 3-5 weeks for delivery depending the process chosen. If there is some urgency please contact me prior to placing the order and I will do my best to meet your deadline.
What Display Option Should I Choose?
In order to make a decision it is important to understand the difference between Lumachrome and Fuji Flex Prints, which are price and the finishing of the surface.
The surface of Lumachrome Prints is very shiny and glossy with an incredible 3D dimensionality. They are the most expensive option for a very good reason. They are considered to be the best in the world by many professional photographers, offering an elegant display style without having to spend extra money on framing. If you like acrylic prints then Lumachrome HD is the best acrylic print on the market today. I can assure you, you will be happy with your choice.
If you prefer traditional paper prints that can be framed afterwards, and you would like to have some choice in selecting your preferred frame to match the walls and environment in your home or office, you should go for the Fuji Flex Prints. The Fuji Flex Prints are very affordable, but you should consider the extra costs for professional framing services that you will have to spend on after receiving the print.